Konstantin Alekseyevich Tereshchenko (Константи́н Алексе́евич Тере́щенкоborn) (born 17 June 1994) is a Russian racing driver, currently driving for Trident. He made his début at the 2014 Belgian GP3 Event but failed to make either race due to a major accident in the Friday practice session.
Accident at Spa
Edit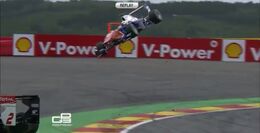 In qualifying for the 2014 GP3 Spa-Francorchamps round, Tereshchenko suffered a rollover in his first ever session in GP3 at Spa which effectively ended his weekend there. The Russian's Trident car went sideways through the final chicane at Spa and was launched several feet into the air by the raised kerb on the inside of the corner. Upon returning to Earth, the car landed on two wheels, rolled over and impacted the barrier, bursting into flames in the process. While Tereshchenko walked away unhurt, the car was sufficiently damaged to rule him out for the weekend.
GP3 Statistical Overview
Edit
GP3 Record
Edit
Career Results
Edit
Complete GP3 Series results
Year
1
2
3
4
5
6
7
8
9
10
11
12
13
14
15
16
17
18
Pts
Pos




2014
F
S
F
S
F
S
F
S
F
S
F
S
F
S
F
S
F
S
0
–
WD
WD
Key
Symbol
Meaning
Symbol
Meaning
1st
Winner
Ret
Retired
2nd
Podium finish
DSQ
Disqualified
3rd
DNQ
Did not qualify
5th
Points finish
14th
Non-points finish
Bold
Pole position
Italics
Points for Fastest lap
DNS
Did not start
Community content is available under
CC-BY-SA
unless otherwise noted.